CatCave - Interactive Basket Natural Felt Cuddly Cat Cave Bed
A Fun And Comfy Hideout For Your Furry Friend
Every cat needs a place to call their own within your home. The CatCave provides your precious pet with a cool and comfy hideout that they can run to every day or night.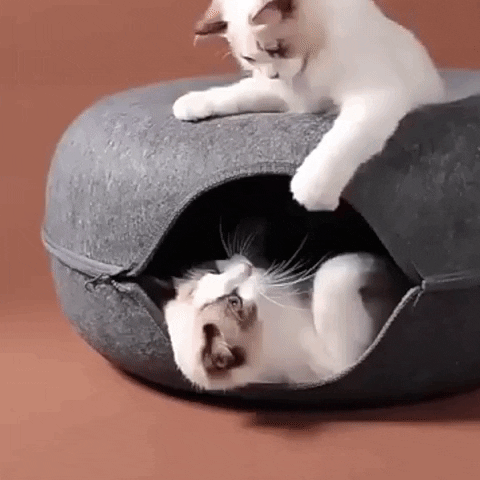 With its unique donut design, the CatCave is both a tunnel that your cat can snuggle into and a bed that it can lie on. It also comes with a large zippered opening that keeps them secure while they take a nap.
Key Benefits
Cozy Material - Our CatCave is made with soft and flexible materials that's extremely gentle on the skin. Any cat will love snuggling into the CatCave after a long day.
Secure Space - Every cat requires a bit of privacy each day. The CatCave provides them with the privacy that they need to recharge and get some rest.

Place Anywhere - With its lightweight design, the CatCave is easy to carry from place to place. This way, you can take the CatCave wherever you go to keep your cat comfy at all times.
Modern Design - Our premium CatCave has a sleek and modern design that makes it perfect for any home. In fact, it adds a cool touch to your living room, bedroom, or wherever your cat usually hangs out.
Specifications:
Material: Natural Felt
Color: Dark Grey
S : 50cm Diameter x 20cm High
L : 60cm Diameter x 20cm High